Saving Honor: An Analysis of the German Soldier and a Nation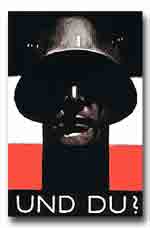 This non-political site is an analytical conversation regarding the German soldier and his reputation.  Military history is the focus of the topic, although political ramifications will be considered as they relate to strategy and policy, in terms of Carl von Clausewitz's dictum "War is the continuation of policy by other means." But how did Barbarism become synonymous with the German people? These questions and more complex issues will be examined in the these studies that will consider various aspects of German history since 9 A.D., with special emphasis on 1806 when German militarism was reborn.
A prerequisite for such an undertaking must include the establishment of an objective foundation of knowledge. A historical timeline is available for a general overview of German military and political history from 9 A.D. to 1945. From the historical timeline you will have the opportunity to excursion into eras in history, and discover more about the warring nation of Germany. The following manuscripts will provide the ground work and basis for study and discussion available in a PDF format (if you do not have the PDF reader download it from www.adobe.com):

Understanding Clausewitz and the Nature of War:
Clausewitz and Absolute War, by Dieter Stenger 2001.
Other Studies:
Bismarck and the European Alliance System: Ferro Ignique (By Fire and Iron), by Dieter Stenger 2000.
Hitler, the Rise of Nazism, and Appeasement, by Dieter Stenger 2000.
More information will be posted here as the site develops.  All queries for the submission of documents or manuscripts should be sent to the stengerhistorica@gmail.com.