Luftwaffe Studies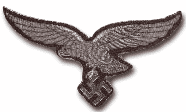 ETHNIT-34 (3dG PC) The Ardennes Offensive (Sep-Dec 1944), by Major Herbert Buechs, VG, 10 pgs, $10.00. Maj Buechs was the Luftwaffe aide to Generaloberst Jodl, Chief of the Wehrmachtführungsstab and particpated in the daily situations briefings at Hitler's Headquarters.
LS # 1 (1stG PC) Airborne Operations: A German Appraisal, pepared in 1947 by contributers that included Oberst von der Heydt, Generalfeldmarshal Albert Kesselring, Gen. der Fallschirmtruppen Eugen Meindl, and other interesting personalities.  Gives a comprehensive review of German airborne experiences in WWII, appraisals of the success and failures, reason for operational abandonment after Crete, and the German experience in opposition to US and Russian airborne operations.  33 Pgs, VG.  $25.00 
LS # 2 (1stG PC) Ludendorff Bridge at Remagen, by Field Marshal Albert Kesselring.  A series of seven questions that address the action around the Ludendorff bridge at Remagen. 4 pgs, VG.  $10.00

LS # 3 (4thG PC) 1. Fallschirmarmee, August bis September 1944, by Generalmajor a.D. Burkhart Müller-Hillebrand and Major I.G. a.D. Gerhard Schacht.  This is the German copy and chronicles the action of the 1rst Fallschirm Army on the Western Front from May to August 1944, and their involvement in the war up to August 1944.  Discusses developement of the Fallschirmjäger during the war.  21 pgs, G.  $20.00. 
LS # 4 (2ndG PC) Die 3. Fallschirmjäger-Division im Oktober und November 1944, by Generalleutnant Friedrich Sixt a.D.  Discussed commitment during engagements at Nymwegen, the bridgehead at Venlo, and the action around Düren.  Has 4 execellent sketches contained in study.  19 pgs, VG.  $15.00.