Veteran Voices
The veterans featured at Stenger Historica have been contacted and asked if they would be willing to share their experiences for publication.  We have had a 95% positive response rate.  The goal of Veteran Voices is to bring the individual experiences and personal stories of the soldiers who fought at the front line into the spot light in order to transcend historical interpretations. Stenger Historica would like to invite veterans to join the Veteran Voices program and share their experiences.

Veteran profiles will be added and updated as more become available.



US Veterans

Calvin C. Boykin, Jr.  814th TD Bn, 7thAD
Charles D. Curley, Jr.  38th Regiment, 2nd Div
Thomas Dailey, CCR, 7th Arm Div. Deceased 98.
John "Jack" Roberts, 592d FAB, 106th Inf Div.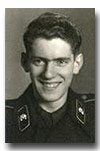 German Veterans

Herman Barkhau, 14 Komp. 164. GrenReg, 62. VGD
Werner Barmann.  SS-Kav-Div "Florian Geyer."
Georg Bleher.  I. Bat., 358. GrenRgt., 205 ID
Philipp von Boeselager, RgtKdr. 31, 3. KavBrig.
Hermann Conzelmann, 11.Komp., 9. Fj-Rgt.
Rudi Froehlich, 9.Bat,.Pz-FusRgt., Pz-Div "GD"
Georg Joseph Grundlach, KB for the 291.ID
Hans Hauser, RKT, 2.SS-Pz.Div. "Das Reich"
Johanne Juhl, 2.Komp. 1818 Pion-Bat.18.VGD
H. Luehmann, 10.Komp. 65.Inf-Rgt., 22. ID
Hubert Meyer, 12.SS-Pz.Div."HJ"
Günter Mueller, 9. Fj-Rgt.
Will-Feodor von Neumann, 298. HflkAbt., 6.Pz-Div.
Hans Neutmann, II.Bat., Gren.Rgt.294., 18.VGD.
Helmut Ortlepp, 17.Komp., Pz-Div "GD"
Hans Poth, 18th VGD. 
Josef Reusch, III.Bat., Art.Rgt.1560, 560 VGD
Klaus Ritter, 1818 Pzj-Rgt., 293. Gren-Rgt., 18 VGD
Kurt F. Scholz, Marineartillerie Küstenschutz
Rudolf Schwarze, II.Bat.Stb., 295.Gren.Rgt., 18 VGD
Hans Sturm, 473. Inf-Rgt, 253. ID. KCW
Klaus Voss, Pz-Abt 106., Pz-Div "Clausewitz."